Pickup from 11 a.m.-12:30 p.m. at 1504 N. Albany St., La Grande
There are several ways the spread of the coronavirus is impacting our lives. As I wrote last week, I believe it can be used by God to bring about a spiritual revival.
This weekend is, regardless of the COVID 19 pandemic, the weekend before Passover on the Jewish calendar. Which means it is the time of Jesus' final trip into Jerusalem that would lead up to h…
Holy Week starts with Palm Sunday, which is April 5 this year. In this week, we will remember our Lord's Passion on Maundy Thursday and Good Friday. Maundy is a Latin word that means "mandate"…
Online worship continues on Palm Sunday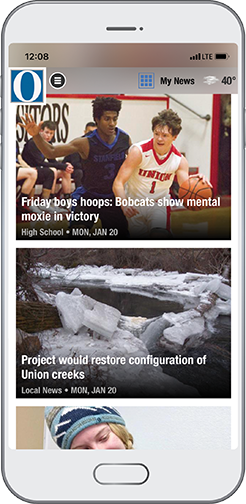 Get breaking news!
Oregon Gov. Kate Brown has directed everyone in the state to stay at home to the maximum extent possible to stem the spread of COVID-19. The order remains in effect until Brown decides to end it.
Senior center lunch available to public
Harvest Share available by appointment at senior center
Pickup from 11:30 a.m.-12:30 p.m.
Willie Myers celebrated her 80th birthday March 25. Her family encourages her friends to call and wish her a happy birthday.
We clearly are not going through an easy time right now as a city, state, nation or world.
BlueMountaineers concerts silenced
In adherence to the governor's executive orders and out of concern for fellow congregants and the larger community, local churches have suspended all gatherings. The following churches submitt…
In the flow of daily life we take seriously many behavioral restrictions: stop signs, red lights, legal notices, restricted crosswalks. It's in our interest to do so. But do we pay attention t…
SALEM — Union County deputy sheriff Kyle Witty was among the Oregon Department of Public Safety Standards and Training's 395th Basic Police Class that graduated Feb. 14 at the Oregon Public Sa…
LA GRANDE — La Grande High School released the following list of students who earned a place on the honor roll for the first semester of the 2019-2010 academic year. These students earned a GP…
Books available for checkout at Elgin Public Library
Scholarships available for budding building trade professionals
Union County Senior Center
Coronavirus prevents communal in-person worship
Free computer classes postponed
Fear and anxiety are negative byproducts of modern life that unfortunately attempt to influence us every day. Our jobs, relationships and finances are often stressful, and even our children st…
LA GRANDE — The Observer is seeking comments from community members on spiritual matters. If you would like to share how you experience spirituality or have announcements or other news, email …
LHS Class of 1954 meets for lunch
There is something glorious about the smell of freshly manicured grass, the sound of baseballs slapping into leather gloves and the crack of the bats as players swing away in batting cages.
Busy gardeners are discovering what our grandmothers knew. Peonies are hardy, beautiful and easy to grow. Each spring they bloom so profusely that you can cut large bouquets and no one will no…
Participants view auction items at Saturday night's banquet of the Union/Wallowa Chapter of the Oregon Hunters Association in La Grande. While most local organizations canceled events due to t…
UNION COUNTY — The following students, all hailing from Union County, earned academic honors and degrees while studying at universities across the country.
St. Peter's Episcopal Church
LA GRANDE — The Observer is seeking comments from community members on spiritual matters. If you would like to share how you experience spirituality or have announcements or other news, email …
I know that life sometimes can be difficult. It seems I'm always writing about the struggles of spiritual warfare, but we cannot deny the Christian life is filled with battles. However, there …
Message looks at Bible's perspective on illness
Ever grows the glory of one who is energetic, mindful and pure in conduct, discerning and self-controlled, righteous and heedful. (Dhammapada 2.24)
Announcing the new SageCat app for iOS and Android. Download the free app and use it to search the catalog, renew books, place holds and have your library card available digitally.
The Cook Memorial Library's new computers arrived this week thanks to the Oregon Community Foundation. Four separate funds under the foundation's umbrella made this grant possible for the La G…
UNION COUNTY SENIOR CENTER LUNCH MENU
Sam and Shirley Johnson will celebrate their 65th wedding anniversary at an open house March 14 at the Eastern Oregon Livestock Show building, 760 E. Delta, Union. Friends are invited to come …
Glen Henry was born March 3, 1920. His children are hosting a party in his honor March 7 from 1-3 p.m. at the Grande Ronde Retirement Residence, 1809 Gekeler Lane, La Grande. Friends are invit…
By the time the New Testament church had grown partly from a likely influx of second-generation believers, the integrity of the gospel had begun to fade in some quarters, and heretical element…
Paul's great escape retold
In the past year, 65% of adults have participated in some form of gambling.
UNION COUNTY SENIOR CENTER LUNCH MENU
Creationist delivers free presentation
We all have problems occasionally, and there are times when we feel like we've been punched in the gut. I felt like this a couple months ago when one morning I went into my office to start the…