ELGIN — The Boise Cascade Company announced it could shutdown its plywood plant in Elgin in early 2021.
LA GRANDE — Local doctors and public health are hopeful the measures to curb the spread of COVID-19 will deliver similar benefits as the flu season takes flight.
ISLAND CITY — October is Domestic Violence Awareness Month, and Shelter From the Storm has worked to show that in downtown La Grande.
UNION — The city of Union could be in a better position to respond to some emergencies more quickly if voters approve a revised charter in the Nov. 3 election, according to Union city officials.
WALLOWA COUNTY — Wallowa County had a second death attributed to COVID-19 reported in the Saturday, Oct. 17, update from the Oregon Health Authority.
SUMMERVILLE — Blacksmithing is one of the oldest trades in the world, yet few people are part of it. Summerville resident Peter Clark is working on getting the next generation of blacksmiths ready.
LA GRANDE — John Bozarth seeks a return to the La Grande City Council, and to get there he will have to defeat David Moyal.
LA GRANDE — Community Connection of Northeast Oregon is holding a virtual public hearing to go over the results of its Senior Needs Assessment survey on Tuesday, Oct. 20, at 1 p.m. The nonprof…
LA GRANDE — The wildfires that devastated portions of Western Oregon last month should serve as a wake-up call for people living in Union County, according to La Grande City Councilor Nicole Howard.
ELGIN —The Elgin School Board will meet Monday, Oct. 19.
UNION COUNTY — The U.S. Department of Agriculture is investing in rural counties to help with economic recovery in five rural Oregon and Washington counties. The USDA is investing a total of $…
LA GRANDE — The La Grande School District's School Resource Officer program has received a boost.
PORTLAND — U.S. Bank plans to close 32 branches in Oregon, most in the Portland metro area, including three in Vancouver, Washington.
LA GRANDE — The Oregon Department of forestry announced the end of the fire season in the Northeast Oregon District effective Saturday, Oct. 17, at 12:01 a.m.
UNION COUNTY — Most schools in Union County scored high grades for students walking away with diplomas, according to the Oregon Department of Education's latest school report cards. The depart…
LA GRANDE — La Grande City Councilor Mary Ann Miesner wants to help the town's businesses bounce back and regain the momentum they had before the COVID-19 pandemic hit. But for her to continue…
ELGIN — Brock Eckstein is leaving his role as city administrator of Elgin.
La Grande Public Works Department employees Dallas Stone (left) and Jared Huff clean the city's main sewer line Tuesday afternoon, Oct. 13, 2020, in front of The Observer at 911 Jefferson Ave.
LA GRANDE — La Grande youths this year will have to go without trick-or-treating at residence halls at Eastern Oregon University.
PENDLETON — Echo farmer Bobby Levy is the strong favorite in the Republican stronghold of Oregon's House District 58 this November, but she still has to beat out Pendleton resident and Democra…
BAKER CITY — The Wallowa-Whitman National Forest is proposing to increase fees at 28 campgrounds and to charge fees at 24 other recreation sites, most of them also campgrounds, that are free n…
ENTERPRISE — The city of Enterprise received $58,350.77 from the federal Treasury's Coronavirus Relief Fund to address unforeseen financial needs and risks created by the COVID-19 pandemic, it…
LA GRANDE — The La Grande School District's improved credit rating is helping property taxpayers save millions.
LA GRANDE — Eastern Oregon University's director of Student Diversity and Inclusion Bennie Moses-Mesubed is joining Gov. Kate Brown's Racial Justice Council.
LA GRANDE — The La Grande Police Department reported an employee of Woodgrain Lumber died Tuesday night, Oct. 13, in a workplace accident.
UNION COUNTY — The Union County Sheriff's Office reported a traffic stop led to two arrests on warrants and for drugs.
This is the second of a two-part series on voting. The first part, which looked at the Union County's sheriff race in May and explained a challenged ballot, an over-vote and an under-vote, ran…
JOSEPH — Nearly nine months after a fire devastated the main Joseph Charter School gym on Jan. 16, repairs and renovations of the facility are nearing completion.
LA GRANDE — Dr. David Glabe was inspired to run for La Grande city council's Position 3 because he wants to have the opportunity to speak out.
UMATILLA COUNTY — State Rep. Greg Smith and state Sen. Bill Hansell are facing some unusual circumstances in their reelection bids — a Democratic challenge.
LA GRANDE —Unlike today, 92 years ago the residents of La Grande were talking about the echoes of a past epidemic.
SALEM — The Oregon Department of Human Services is temporarily increasing Supplemental Nutrition Assistance Program benefits for the month of October.
BAKER CITY — Oregon Trail Electric Cooperative announced in a press release it has five vehicles for sale in its annual surplus auction at the cooperative's Baker City headquarters.
SALEM — The Department of Administrative Services set the maximum rent increase at 9.2% for 2021, preventing landlords from increasing rent any higher than the percent allowed. In 2020 the max…
This is the first of a two-part series on voting. The second part, breaking down the margin between Kate Brown and Knute Buehler in 2018, runs Tuesday, Oct. 13.
LA GRANDE — Two of the most recent livestock depredations the Oregon Department of Fish and Wildlife investigated in Eastern Oregon lack any markings that point to a wolf.
LA GRANDE — La Grande has a new memorial to the late Doug Trice, the community volunteer who lifted young people to greater heights without raising his voice.
ELGIN — An Elgin School District staff member tested positive for COVID-19.
UNION — Law enforcement for the city of Union received a noteworthy boost Wednesday, Sept. 7.
JOSEPH — The accident nearly cost Joseph Charter School cross-country runner Keelan McBurney his leg, but he is not letting it keep him down.
UNION COUNTY — Close to 250 of the La Grande School District's youngest students are no longer going online each weekday morning and afternoon for classes. Instead they are getting in line — f…
ELGIN — Elgin School District Superintendent Diane Greif announced an employee of the district has tested positive for coronavirus.
UNION COUNTY — Residents of Imbler and Cove will have two mayoral candidates to choose from on their ballot for the Nov. 3 general election. Imbler voters can choose incumbent Rick Vicek or Ja…
ENTERPRISE — Joseph and Enterprise have contested races for seats on their city councils.
LA GRANDE — The COVID-19 pandemic will not prevent La Grande tree enthusiasts from reaching the century mark this year, thanks to members of the city's Community Landscape and Forestry Commission.
LA GRANDE — Ronald Dwight Lee of La Grande is headed to the Oregon State Hospital in Salem instead of to a murder trial for the death of his wife Loretta Williams.
LA GRANDE — The U.S. Forest Service has closed Bird Track Springs Campground off of Highway 244 for a restoration/timber project.
LA GRANDE — Historian Richard Roth, the author of a series of books about Hot Lake's history, is again in a paradoxical position.
Morgan Lake reopened Monday, Oct. 5, 2020, due to reduced fire danger. Extreme fire danger forced the city of La Grande to shut down Morgan Lake on Sept. 11. The lake will remain open until it…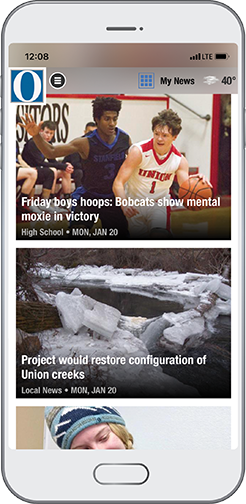 Get breaking news!