PENDLETON — There may be COVID-19 in the city of Pendleton's wastewater system, but city officials aren't trying to take the results literally.
BAKER CITY — Baker City's Pythian Castle remains a distinctive example of downtown Baker City architecture, but its interior hasn't aged as well as its exterior of locally quarried Pleasant Va…
SEATTLE — Seattle police turned out in force early Wednesday at the city's "occupied" protest zone, tore down demonstrators' encampments and used bicycles to herd the protesters after the mayo…
The pandemic is transforming the nation's hunger relief system – for better and for worse. 
UMATILLA COUNTY — Some Umatilla County churches have reexamined their church service protocols following a COVID-19 outbreak at a Union County church.
UMATILLA COUNTY — The report of two murders in the span of 72 hours between Saturday, June 20, and Tuesday, June 23, marks the fourth and fifth homicides reported in Umatilla County this year.
PINE CREEK — Phil Reindl was maybe one shovel thrust away from transforming an interesting artifact into a pile of pretty, colored glass shards.
BAKER CITY — Thirteen people were detained by police Wednesday morning at what officers describe as "a known high crime activity home" in an east Baker City neighborhood.
BAKER CITY — The coronavirus pandemic did not deter Baker County residents from donating blood.
UMATILLA COUNTY — A surge in newly reported COVID-19 cases Monday caused Umatilla County's count to soar past the 300 threshold.
ONTARIO — Ontario City Councilor Freddy Rodriguez is a "credible threat" to an Ontario woman and faces bail of up to $50,000 if he violates an order to stay away from her, according to court records.
HERMISTON — The Hermiston man found dead from a gunshot wound at an East Francolin residence on June 9 has been identified as Jesus Eli Lopez, 21, according a press release from the Umatilla C…
MILTON-FREEWATER — The Umatilla County Sheriff's Office rescued a Walla Walla woman the night of June 10 after she got stuck on a 40-foot cliff while hiking at Harris Park near Milton-Freewate…
BAKER CITY — Another of Baker City's signature summer events has been canceled due to the coronavirus pandemic.
MEDFORD — A Medford small business reeling from back-to-back burglaries is back in the saddle thanks to an outpouring of donations.
BAKER CITY — On the night of May 29, a metal giraffe disappeared from the sidewalk outside Mad Habit Boutique in downtown Baker City.
HERMISTON — As COVID-19 spreads locally, stories from Umatilla County residents who have had the virus show its effects can run the gamut from inconvenient to deadly.
SALEM — It's bigger than some states, includes two time zones and is a bright red Republican stronghold in a deeply blue Democratic state.
Sara Barnett, 53, poses for a portrait in front of her Hermiston home — her oxygen hose coiled at her feet — on June 4, 2020. Barnett was diagnosed with COVID-19 and spent two weeks in the hos…
BAKER CITY — About 115 people attended a Monday night vigil in Baker City for George Floyd, the man a Minneapolis police officer killed during a May 25 arrest.
WALLA WALLA — The Walla Walla Police Department is seeking information to help identify who is breaking into the Pioneer Park Aviary and killing birds.
UNION COUNTY — Signature collection has begun in 13 of 15 counties for the proposal to move the Oregon/Idaho Border, including in Union County.
JOHN DAY — The Emergency Operations Center that Grant County established amid the COVID-19 pandemic has overspent its $125,000 budget by almost $75,000.
It was a long time in coming, but last week the Wallowa School District was awarded a 2.3 million dollar seismic retrofit grant from the Oregon Department of Education. The funds will be used …
Residents gathered at Baker City's Central Park Monday evening for a vigil honoring George Floyd, who was killed May 25 during an arrest by a Minneapolis police officer. About 115 attended the event.
Many people attending a vigil for George Floyd Monday at Baker City's Central Park left candles and other mementoes.
BAKER CITY — Reanna Clark seems more interested in tasting her brand new book than reading it.
A Baker City man with a lengthy criminal record who was placed on probation in exchange for agreeing to testify at a murder trial is back in prison for using drugs and committing new crimes ju…
BAKER CITY — Shelly Cutler is optimistic that Miners Jubilee — in some form — can happen as planned July 17-19.
JOHN DAY — Closure may be coming almost two years after a couple vanished after their cabin became engulfed in flames in the Laycock Creek Road area.
PENDLETON — Blue Mountain Community College announced Wednesday it laid off 11 employees.
He's looking forward to a "smooth transition" to becoming Wallowa County sheriff, but Enterprise Police Chief Joel Fish is cautious to "not count my chickens before they hatch," he said Thursd…
SALEM — Knute Buehler said he will not run for governor in 2022 and endorses President Donald Trump's reelection this November.
Four men from Oregon were killed during World War II in one of the deadliest attacks at sea in U.S. history, and their families may have never known the whole story.
HELIX — Mark and Karen Woolbright tried to ignore their nerves.
VALE – There will be no Vale 4th of July Rodeo this year.
Brian Harvey, right, former chief of police in La Grande, takes his oath of office Tuesday as a deputy for the Baker County Sheriff's Office. Harvey retired effective May 4 from the La Grande …
BEND — Most of the animals at the High Desert Museum south of Bend can't tell that the natural history museum has been closed since March due to the COVID-19 pandemic. But the three resident o…
PILOT ROCK — Ray Arriola stood in the muddy middle of Main Street in Pilot Rock and watched water sluicing over a parking lot that sits between rushing East Birch Creek and a second hand store…
SALEM — Umatilla County voters may have clinched a Tuesday night victory for Nolan Bylenga, 22, a Portland State University senior and Pendleton High School alum running in the Democratic prim…
SALEM — Bill Hansell, R-Athena, won the 29th District State Senate Republican primary Tuesday night, easily defeating challenger Garison Lee Alger, according to the Oregon Secretary of State's…
BOISE — Idaho is holding an entirely mail-in primary for the first time as the state works to slow the spread of the coronavirus pandemic.
COUGAR, Wash. — The coronavirus outbreak disrupted what had been big plans to mark the 40th anniversary of the eruption of Mount St. Helens in Washington state.
Violist Aurora Torres (left), is one of the featured performers for the "Meet the Members of the Oregon East Symphony" recital to be broadcast May 31 online and on KCUW Radio.
PORTLAND — Road-raging commercial drivers caused the head-on crash in 2016 near Burns that left Matthew Allison with serious injuries and took the life of his wife, Sara Allison. Now the recor…
BAKER CITY — Baker Technical Institute has been awarded a $500,000 federal grant for its Brownfields Program to continue work to clean up the historic Central School building in Baker City.
MISSION — Kayak Public Transit has been sidelined since March 23 due to the COVID-19 pandemic, but some extra precautions and federal funds from the coronavirus relief bill have the vital regi…
PENDLETON — Umatilla County reported its second death of a confirmed COVID-19 patient on Sunday.
OLYMPIA, Wash. — Insect experts say people should calm down about the big bug with the nickname "murder hornet" — unless you are a beekeeper or a honeybee.
A sign posted on a Kayak Public Transit bus stop in Hermiston advises that the route is not running due to COVID-19 concerns last week. The transit operator is working to reopen as soon as it …
PENDLETON — Oregon Army National Guard soldiers received a rousing sendoff Wednesday morning — from a distance.
A group of Oregon churches and individuals, including as lead plaintiff the Elkhorn Baptist Church in Baker City, is suing Gov. Kate Brown claiming her executive orders imposing restrictions d…
BAKER CITY — Baker County has its first confirmed case of coronavirus, Commissioner Mark Bennett announced Wednesday during a board of commissioners meeting.
The former deputy who was arrested on attempted rape and other charges maintained his innocence Thursday.
UMATILLA COUNTY — Umatilla County is quickly becoming the epicenter of the coronavirus pandemic in rural Oregon.
Four candidates seeking the Democratic nomination for Oregon's 2nd Congressional District gathered virtually Friday evening for an online forum.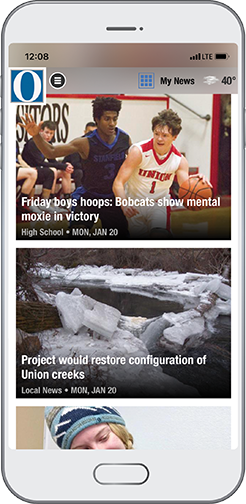 Get breaking news!